Prison SMART is an internationally renowned rehabilitation program that effectively transforms the mindsets, attitudes and behavior of offenders, thus aiming to break the cycle of violence in our societies at the root and reducing reoffending.
We teach time tested, effective evidence-based skills that reduce stress, heal trauma, and provides practical knowledge of how to handle negative emotions in order to live to one's highest potential and contribute to society in a positive way.
THE CHALLENGE
The prison population has overwhelmed the corrections system and is fueled by repeat offenders. Ex-offenders find that freedom from the impact of incarceration does not end at the moment of release. Many will recidivate within a year of release. Families of the incarcerated are also 'doing time'. The burden can be crippling.
Prison staff, on a daily basis, work under incredibly stressful and dangerous conditions. In fact, Newsweek reports, "Prison Employees Face Same Rates of Ptsd as War Veterans, New Research Claims"
As The Second Chance Act (Fact Sheet) explains, "Nearly all of the 2.2 million people incarcerated in the United States will be released at some point. People who are returning to their communities after prison or jail have complex challenges and needs that contribute to the likelihood that they may return to incarceration."
THE PROGRAM
Prison SMART aims to reduce offender recidivism and end the repeating cycle of violence and abuse that dominates many areas of our society. Prison SMART provides a basis for self-management, increases self-confidence, strengthens human values and reduces reliance on addictive substances. Participants learn skills to deal with future conflict and stressful situations successfully. The SMART program cuts through the cycle of violence as detainees become more conscious of the consequences of their actions, and take responsibility for their mind & negative emotions. Supporting genuine rehabilitation, Prison SMART is believed to reduce recidivism rates.
Prison SMART offers progressive stress management programs for corrections-involved populations- including staff and victims of crime. Prison SMART teaches inmates AND staff how to manage stress effectively and practically.
The cornerstone of the program is advanced breathing techniques, including Sudarshan Kriya (SKY), which removes stress from the physiology and has been shown to have numerous physical and mental health benefits – as documented in over 70 independent peer-reviewed scientific studies and numerous self-reports surveys. The patented techniques have been proven to be an effective treatment for PTSD, depression, and anxiety. In addition, it has been shown that practitioners experience a decrease in violent behavior.
The Prison SMART program has been offered worldwide through our partner IAHV/Art of Living organizations in over 60 countries and has benefited 700,000 people.
HOW IT WORKS
Trained instructors deliver the course in approximately 15 hours, spread out over 5 days.
Prison SMART teaches practical skills that begin to produce results from the very first session.
The seminars train participants in breathing techniques documented to biologically lower stress levels, neutralize charged emotions, and release anxiety. The Prison SMART program focuses on the individual's responsibility to effectively manage their own mind and negative emotions, through innovative breathing techniques.
Other components of the program include physical stretches, meditations and cognitive behavioral techniques for maintaining positive behaviors and attitudes that lead to physical relaxation and calmness.
Participants learn a personal practice that can be used on their own daily to further establish the benefits that makes the program sustainable and cost-effective. Participants report experiencing states of calm, peacefulness that grow the more they practice.
After the initial Prison SMART training, follow-up sessions and more advanced trainings can be conducted, as the benefits increase with continued use. The phases include: Prison SMART Course, Part Two Silent Retreat, Meditation Courses, and Peer Mentoring Course.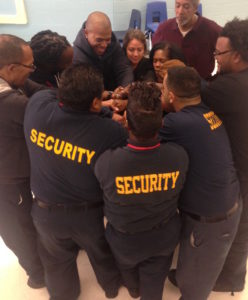 POPULATION SERVED:
INMATES
EX-INMATES
HALF WAY HOUSES
PAROLE & PROBATION
JUVENILE JUSTICE PROGRAMS
VICTIMS OF CRIME
CORRECTIONS STAFF
LAW ENFORCEMENT
Prison SMART programs are currently active in the following countries and continue to grow.
Africa: Cameroon, Kenya, Namimbia, Nigeria, South Africa, Zimbabwe
Asia: India, Israel, Lebanon, Mongolia, Nepal, Singapore, Taiwan, Thailand, UAE
Australia, New Zealand
Europe: Belgium, Bosnia, Bulgaria, Croatia, Denmark, Estonia, France, Germany, Holland, Hungary, Italy, Kosovo, Lithuania, Luxembourg, Macedonia, Montenegro, Netherlands, Norway, Poland, Portugal, Russia, Serbia, Slovenia, Spain, Scotland, Sweden, Turkey, United Kingdom.
North America: Canada, Jamaica, Mexico, USA
South America: Argentina, Brazil
Prison SMART program is implemented by IAHV in collaboration with Art of Living Foundation.